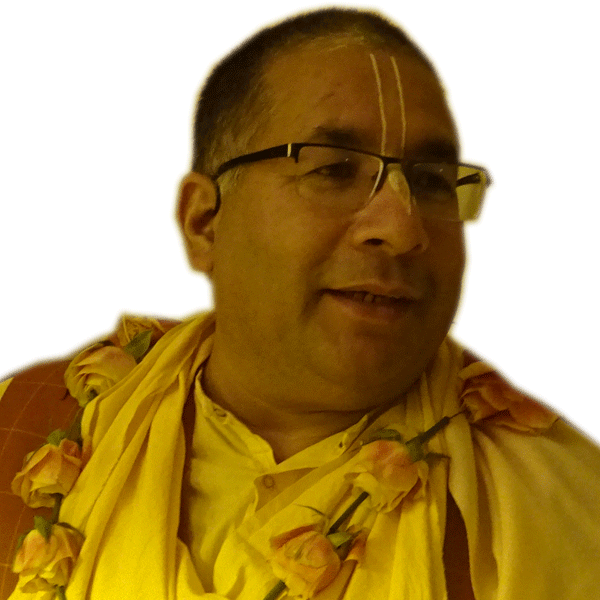 His Holiness Sri Vishnu Maharaj is an immense source of mercy. He appeared in a great Vaishnav family. Maharaj's father Shri Premdas ji and mother Srimati Jasoli Devi were the disciples of His Divine Grace Srila Bhakti Dayita Madhava Goswami Maharaj. The devotion of his father was imprinted on his mind and the dominant tendency of the little child to serve Lord Krishna was gracefully brought up by his mother.
The Himalayas, crown of our country was fully covered with the snow at that auspicious moment, when an admirable vaishnava was about to take birth on this earth. It was 28th November 1962, when Sri Bhakti Vichar Vishnu Maharaj appeared in a small village " SABLI-KHTLI " of Pauri Gharwal at 8:30 in the morning. The first name given to the little child by his parents was Chandra Shekhar.
While he was doing his graduation in Bachelors of Science, he went to Chandigarh, where his fortunate meeting with Srila B.S. Niskinchan Maharaj was destined. The simplicity and devoutness of Maharaj ji mesmerised the young man and this brought a turning point in his life. It is at that instant he took the decision to surrender his whole life unto the lotus feet of his Gurudeva.
In Jammu 1982, his spiritual master, His Divine Grace Srila Bhakti Ballabh Tirtha Goswami Maharaj blessed him with Harinaam and later taking absolute shelter at His Lotus Feet, He took initiation from him at Sree Chaitanya Gaudiya Math in Chandigarh in 1983. Gurudeva blessed him with a new name Chidghananand Das Brahmachari. Again His Divine Grace Srila Bhakti Ballabh Tirtha Goswami Maharaj blessed him with Sanyas Diksha and gave a spiritual name " Bhakti Vichar Vishnu " , in 2001, Mayapur(West Bengal).
Sri Maharaj was very dear to his spiritual master and to his other Godbrothers. Some devotees even glorify His Divine Grace Srila Bhakti Ballabh Tirtha Goswami Maharaj and Sri B.V Maharaj relationship as of a Cow and her Calf which add a touch of endearment he receives from his spiritual master. Giridhari Panda of Govardhan used to call Sri B.V Vishnu Maharaj "Hanuman" as the relationship between Gurudeva and Maharaj reflected the kinship of Lord Rama & Hanuman. Sri Maharaj ji had a immense affinity for Gurudeva as Hanuman had for Lord Rama.
He had always abided by the order and instruction of his Gurudeva. The principles and teachings of his spiritual master steered him on his devotional path always. His determination to serve Gurudeva was miraculous. He followed all the instruction given by Srila Gurudeva with great sincerity and devotion.
At present being the only personality in our Math to attain the inner ambition of Srila Guru Maharaj to preach in the western countries. Many small and big functions like Braj Mandal Parikrama, Navadvip Dham Parikrama and many other are flourishingly going on under the supervision of Srila Vishnu Maharaj.
Seeing all the genial qualities of a pronounced Vaishnava in him, the organisation gave him the responsibility of being a General Secretary of Sree Chaitanya Gaudiya Math. Since then he applied himself energetically to teach the message of Sri Chaitanya Mahaprabhu, following in the footstep of his spiritual master and His Divine Grace Srila Bhakti Siddanta Sarasvati Thakur Prabhupada. His speaking engagements have taken him around the world.